Single Phase WiFi Energy Meter, Real Time Electric Meter/Monitor
Introduction
Single phase WiFi energy meter (WEM3080) is a Din rail, bi-directional, Wi-Fi energy meter/Wi-Fi electricity monitor. It is highly integrated power meter with Wi-Fi module embedded, which measures the data, such as single-phase AC voltage, current, power etc, and transmits them to cloud via WiFi network.
WEM3080T can be connected to our online energy monitoring system-Iammeter(https://www.iammeter.com/) by one-key setup. With that, you can easily track, monitor and analyze your energy consumption in your home, company or factory in real-time. If you have a solar PV system, this meter can also help track the entire energy flow of the system. The system tells how much energy your solar system is producing, how much excessive energy are exporting to the grid or how much your loads are consuming from grid or your solar system.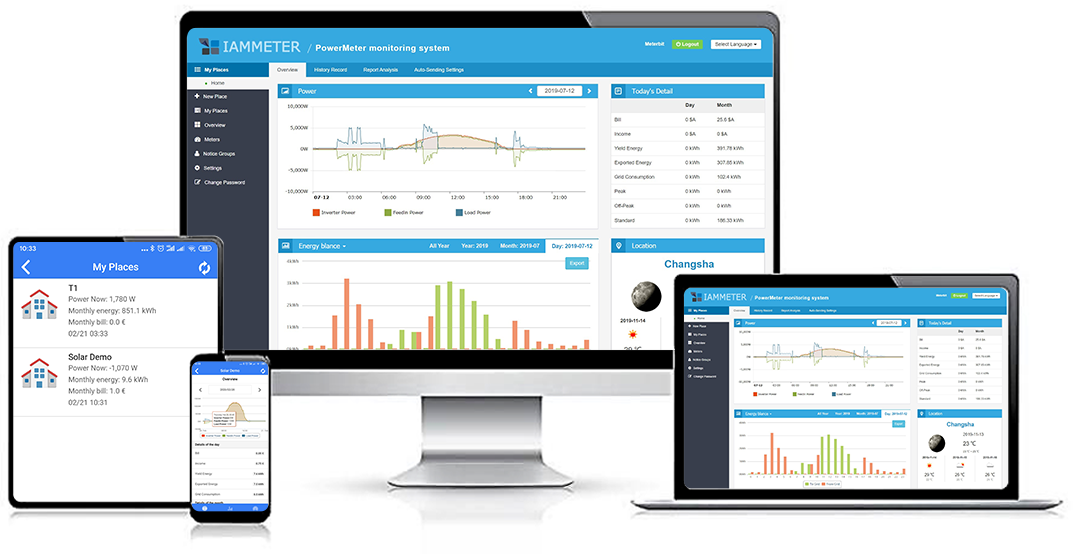 With open API, you can monitor the data locally via LAN or upload the data to your own server.
Standard Package
| No. | Item | Qty | Remark |
| --- | --- | --- | --- |
| 1 | Wi-Fi Energy Meter | 1 | Wi-Fi Module Embedded |
| 2 | Split-core Current Transformer | 1 | 150A or 250A CT optional |
| 3 | 2.4G Wi-Fi Antenna | 1 | |
Applicable in different field
Solar PV System Monitoring
Electricity Usage Monitor/ Energy Monitoring System
Home Automation
1. Solar PV System
Exported/imported energy vs solar inverter production

Electricity bill and solar PV system income statistics
Monitor your solar pv system in IAMMETER cloud
OVERVIEW OF SOLAR PV SYSTEM
BILLING AND INCOME REPORT
This report shows both total Grid Consumption & Electricity Bill, total Energy Exported & Income, and Balance, on daily/monthly/yearly basis.
TOTAL SAVINGS REPORT
This report shows Direct Self-use Rate and Total Saving(Money saved by consuming direct self-use energy instead of grid energy + income of exported energy to grid) of your solar PV system.
2. Electricity Usage Monitor/ Energy Monitoring System
Real-time monitoring of electricity usage

Electricity bill calculation on houly/daily/monthly basis
Monitor your electricity usage in IAMMETER-cloud
OVERVIEW OF RESIDENTIAL ELECTRICITY SYSTEM
LIST OF POWER CONSUMPTION AND BILL
ENERGY USAGE AND BILLING REPORT
This report shows the statistics of Grid Consumption(kWh) and Electricity Bill on different time period (peak-to-valley) on daily/monthly/yearly basis.
ENERGY CONSUMPTION AND BILL FORECAST
Our system can give you the Energy Consumption and Electricity Bill forecast on monthly basis by learning from your historical energy consumption and billing method you set.
ADVANCED ENERGY CONSUMPTION ANALYSIS REPORT
3. Home Automation
Our Wi-Fi energy meter provides an open API interface for perfect data integration with the home automation system of third party, such as HomeAssistant, openHAB etc. We will aslo merge the meters to more other platforms soon.
Key Features
Bi-directional meter to track the two-way energy ("from grid" and "to grid")
DIN-rail mounting fits neatly in the meter box
Open API enables perfect integration into third party server (HomeAssistant, PVoutput, your own server...)
Web-based Cloud Service and Android/IOS app available on Google play and Apple store
Mobile App
SOLAR PV SYSTEM
RESIDENTIAL ELECTRICITY SYSTEM
APP DOWNLOAD
Certificate
CE
RCM
RoHS
Integrate to third-party platform
We provide our own IAMMETER cloud service and mobile APP for our WiFi energy meters, to realize different applications, such as solar PV system monitoring, electricity usage monitor. Moreover, you can integrate our WiFi energy meters to other third-party platforms.
Integrated with third-party MQTT server
https://www.iammeter.com/docs/integrate-with-mqtt-server
Integrated with third-party TCP/TLS/http server
https://www.iammeter.com/docs/integrate-with-thirdparty-server
REST API
https://www.iammeter.com/docs/integrate-with-PVOutput
Home Assistant
https://www.iammeter.com/docs/homeassistant
Openhab
https://www.iammeter.com/docs/openhab
NodeRED
https://www.iammeter.com/docs/nodered
HomeAssistant-InfluxDB-Grafana
https://www.iammeter.com/docs/homeassistant-grafana
More video tutorials
IAMMETER Energy monitor video tutorial
Please note that these videos tutorial only introduce a part of the functions of IAMMETER. For more detailed introductions, please refer to IAMMETER Docs